Join Lafayette's goal: 75% waste diversion
Lafayette, CA residents drive hybrids, install solar panels, ride bikes, and recycle. Still, over twenty thousand tons of trash ends up in landfills each year.
To good environmental stewards, the City of Lafayette established a goal of diverting 75% of it's waste from the landfill. The number at the right represents our current diversion rate, but we need your help to do better and reach our goal.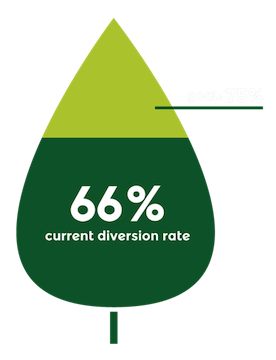 Are you a resident?
Free stickers for your recycle bins at the Chamber!
It's worth it.
While a comprehensive recycling program takes a sustained and concerted effort from everyone, the benefits are clear. The most apparent impact will be felt in the wallet, with lower costs as you reduce the size of your trash receptacle. Other benefits are less obvious but just as important: less landfill space needed, reduced greenhouse gas emissions, more natural resources conserved, and eliminated waste and debris on the sides of our roads. Let's do the right thing, and help our city achieve a 75% diversion rate.