Food Scrap Recycling Program
The food scrap recycling program diverts food waste from landfills by taking household food scraps and turning them into compost. Food Scrap Recycling is free and easy, just follow the steps below and start recycling food scraps today!
(1)  COLLECT your food scraps, compostable papers, and food-soiled paper by putting them into a kitchen collection pail. For a free collection pail, call the Solid Waste Authority at (925) 935-8900, or you may purchase them at a nearby hardware store. To keep your collection pail clean, line it with newspaper or a paper bag. Please don't use plastic bags.
(2)  EMPTY your kitchen collection pail into your green organics bin. You should not encounter any pests or off odors, especially if you mix yard waste with the kitchen scraps. See the Residential Food Scraps Program for a complete list of accepted food scraps that can be placed into your green bin.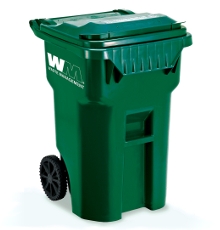 (3)  SET OUT your cart on your designated garbage pick-up day. Your food scraps will be collected with the other organics waste in the area and turned into valuable compost for area businesses.
For more information please visit RecycleSmart.org.
Even Better – Composting at Home
If you already participate in the food scrap recycling program and want to do more, consider composting at home. By placing your yard clippings and food scraps into a compost bin at home, you can reduce the amount of material that has to be trucked away from your home and processed, and instead create healthy soil for your garden. Central Contra Costa Solid Waste Authority (CCCSWA) sells compost bins at a discount, and offers free instructional workshops to get started.